Meet nice people, dance around a table; feel ridiculous, funny, talented and have a laugh – Table Tennis Over 50s club in Manchester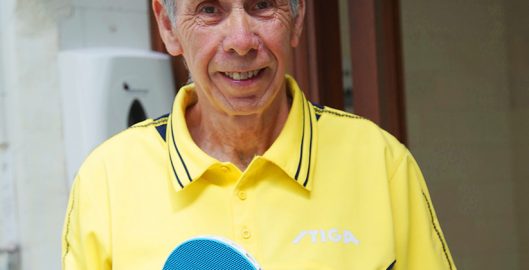 Live Long, Play Ping Pong!
Over 50s fab sociable activity
The power of playing table tennis goes way beyond physical benefits - it's brain food. This 60 seconds film of table tennis film conveys the joy in Withington, Manchester.
85 year Joan came along. Within a few short weeks her movement, coordination and anticipation had improved markedly. Joan laughs her head off and amuses others no end.
What do experts say?
"In ping pong, we have enhanced motor functions, enhanced strategy functions and enhanced long term memory functions" Dr Wendy Suzuki, prof Neuroscience & Psychology, New York University. "The world's best brain sport" - Psychiatrist Dr Daniel Amen.
Joan says it's "an absolute hoot!"
It's social, funny, ridiculous chasing a light, small ping pong ball around a table. Novices quickly improve their coordination, movement, anticipation. People also have an enormous laugh playing. Get out that chair and ping pong! Filmed at Withington table Tennis club, Manchester July 2019