Corporate video questions – Filmmaker or agency?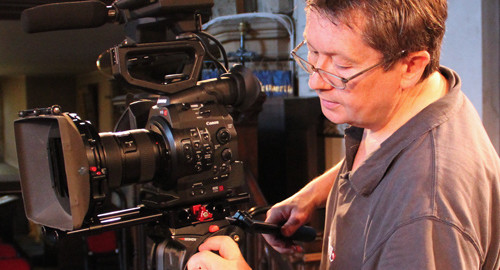 5 ways a good individual filmmaker can deliver more than a larger video production company
1. Cost
Yes, a filmmaker will not carry the overheads of larger production company, but the value of a good individual is greater than simply less expensive. A talented individual brings flexibility unmatched by bigger outfits.  They can follow your project, are less obtrusive and strike up personal relationships of trust, ensuring your people communicate in the most effective way
2. Hands on personal touch
You have a direct line of communication with the person who will direct, shoot and edit your video(s) ensuring that your key messages are not lost across a larger team. This is more than a bit of 'touchy feely' – an individual filmmaker can respond to the situation to get more from it, they can improvise to capture compelling moments in ways that larger agencies cannot, weighed down by  a larger crew and the cost commitments these entail
3. Production companies work with more expensive gear VS individual filmmaker
Larger production companies may used hired in £30k cameras, producer/ director, cameraman, sound and production assistants, extensive dolly track based on a large budget to create that cinematic feel. The reality is the cost of video production has diminished dramatically. Great storytelling and visuals is made using my own kit including sliders, aerial drone 4k cameras and £1k hand held gimbals produce super smooth, endless tracking shots of action, bringing the cinematic and emotional to your production. At the end of the day, it's the quality of the ideas and taking the time to understand your business needs that counts. Huge production budgets might look good in a cinema and create a sense of importance on set, but do you really need to spend hugely to tell your stories effectively in presentations and online?
4. Individual filmmakers own their kit & know how to get the best results
An individual filmmaker often owns all their kit so they know it intimately, how to deliver terrific results. They're necessarily knowledgeable about all aspects of production including sound, lighting, camera, direction and editing. This makes for a super efficient set-up. More than this, individual filmmakers live or die by commitment to quality. They can easily hire in kit needed to capture exactly what's needed. A talented filmmaker is a pocket-battleship, punching far above their weight to deliver more bang per buck!
5. Filmmaker as editor
A seamless production handled by a talented filmmaker ensures that the key ideas developed for your film feed directly to the editing and post production. The filmmaker/ editor is completely familiar with the key ideas to be communicated. And often the editing is already being conceived during the filming, with shots required secured to make a compelling video.
Get the filmmaker you need to tell your stories, create engaging content that drives visitors to your site or helps convert the people you need to your cause or business.
CLIENT FEEDBACK
 Marilyn Jeffcoat, Chairman Mendelssohn on Mull Trust
"Stunning! Moving! Perfect! Not my words but the reaction of people visiting our site and watching Kevin's video. He directed and produced a promotional video which is easily the best I have ever seen, and I have been involved in commissioning websites and videos over the last 20 years, for both commercial and charitable organisations. He worked with us over a period of time so that he thoroughly understood the brief. He was completely professional and focussed but also supportive towards all those involved"